Chiropractic Care More Effective Than Drugs for Neck Pain
Chiropractic Care More Effective Than Drugs for Neck Pain
Written By Chiro-Med Health Center on July 26, 2021
---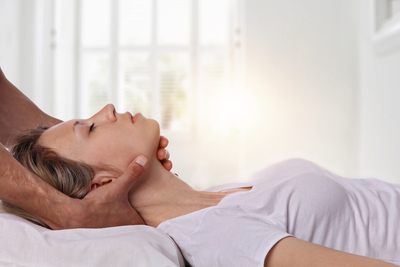 It's a lot of work for your neck to support your head, making it easy to experience neck pain due to poor posture and more. Dr. Tinoosh of Chiro-Med Health Center in Lynchburg utilizes a patent-pending protocol to help reduce and/or eliminate neck pain without the use of drugs or surgery.
The Research on Chiropractic and Neck Pain
This 2019 study focused on neck pain specifically in the elderly. Chiropractors were able to implement gentle, non-invasive techniques to successfully treat patients. Treating neck pain also positively impacted headaches and migraines, and even dizziness via activator adjustment, spinal manipulation and the neck, and neck massage.
And this in-depth 2019 study examined chiropractic for neck pain in the general population. Pain levels improved, patients reported such positive experiences that they made chiropractic a routine part of pain management, and fewer patients returned to hospitals for urgent care.
And a 2012 study compared and contrasted chiropractic versus other approaches to neck pain. The chiropractic group experienced a 75% reduction in pain levels while other approaches achieved only a 33% improvement. Even better, 53% of the chiropractic group maintained that same level of pain relief after one year. Only 38% of the medicated group noted any sustained results.
Get the Best Neck Pain Care in Lynchburg
Dr. Jennifer Tinoosh is a compassionate doctor that cares about her patients total well being. She tailors each patient's treatment plan based on the patient's needs and lifestyle.
Dr. Tinoosh is a board certified, award winning chiropractic physician who has treated over 8500 patients since 1999. She has the experience to treat pain and discomfort successfully that haven't had success elsewhere.
Taking things a step further, she has her own patented treatment called the "Tinoosh Biokinetic Cross Method" based on the complexity of Neuromechanics of the body. Using this method she is able to find the root cause of where the symptoms originate from and the source of the pain, instead of just the site of pain or complaints.
Dr. Tinoosh utilizes a percussion adjusting instrument to treat the cause of pain by stimulating the body's mechano-receptors in order to maximize the functionality of the kinetic movement of the joints. The technique is used to help patients suffering from joint pain, muscle pain, low back pain, sciatica, neck pain, headaches, nerve damage (depending on the patient's symptoms) and whiplash injuries.
Have questions or need to schedule an appointment? Call us at (434) 316-0100 or go online and fill out our contact form.

Posted In: Chiropractic Neck Pain Treatment